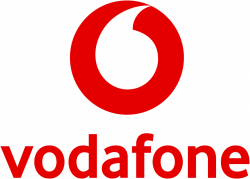 WHAT'S IN THE PACKAGE
SIM Card with 25 CZK credit and 1 month tariff worth 174,50 CZK FOR FREE 
(Don't forget to put at least 200 CZK within 30 days to your account, otherwise your tariff will be DEACTIVATED. You can learn more about different ways how to do so at the bottom of this page)
You will get the SIM card with Premium Bundle ALREADY ACTIVATED.
Premium Bundle DATA 349 FIX for 174,50 CZK/30 days*
ALWAYS MAKE SURE YOU HAVE ENOUGH CREDIT ON YOUR ACCOUNT
(To learn how to add money to your SIM Card, scroll down)
Please remember that the first SIM Card activation can take up to one hour 
3GB Internet


After using all the DATA you will get ATOMATICALLY 250MB for 49 CZK (we recommend to turn it off at www.vodafone.cz)

UNLIMITED SMS within VODAFONE CZ
A minute of call to 4 selected numbers to all networks in CZ (programme 4) 1,90CZK
A minute of call to other numbers of all networks in CZ 3.50CZK
SMS out of Vodafone network for 1,90 CZK / 1 SMS
Calls for 3,50 CZK / min for ALL NEWORKS


1,90 CZK / min for 4 selected numbers IN ALL NETWORKS in CZ (Program Four)

MMS:  4,54CZK / 1 MMS
SIM CARD ACTIVATION*
Insert the SIM card in your phone and tur nit on.
Enter 1234 (default PIN for the first use).
Press OK or Send. This will initiate the activation proces.
Wait for an SMS with confirmation of successful activation. You will get your password – please keep it safe. You will need it for setting of services at my.vodafone.cz and communication with the operator
*Please remember that the first activation can take up to 1 hour
BOUNDLE REACTIVATION
If there is no credit on your account within 30 days since activation the bundle WILL NOT BE ACTIVATED again (so we recommend buying some credit right after receiving the SIM card) to activate the bundle again – send SMS in form DATA 349 FIX to number 7700 or do so at www.vodafone.cz
Be sure you have ALWAYS enough money on your account, otherwise you will lose the bundle.
OTHER BASIC OPTIONS
You can change various settings of your tariff at www.vodafone.cz
Here you can change the language to English and here you can log in. If you want to check the features of your tariff or change anything, you can do it here .
Unlimited calls within the Vodafone CZ network for 99 CZK

Send a text message "VOLANI VF FIX" to the number 7700

Unlimited calls to all networks for 599 CZK

Send a text message "VOLANI VF VSUDE FIX" to the number 7700
HOW TO ADD MONEY TO YOUR SIM CARD
You can add money at www.vodafone.cz by using your BANK ACCOUNT or CREDIT CARD here.
You can also buy a coupon at one of the many newspaper stands in Ústí. You need to ask specifically for Vodafone and then you need to fill in the specific code you will get again at vodafone.cz
It is also possible to add money to your SIM card at the official Vodafone Store in Ústí (you can find the address at the bottom of this page)
FOR FURTHER INFORMATION
Visit the web page www.vodafone.cz
Visit the official Vodafone store in Ústí nad Labem. Here you can find how to get there (they all should speak good English there :)).
Ask your buddy. :)
At the bottom of the page, you can also see a scan of a paper guide to your SIM card which was given to you together with your Vodafone SIM card.
* As Erasmus student you will get 50% Discount for 6 MONTHS – regular price of this bundle is 199 CZK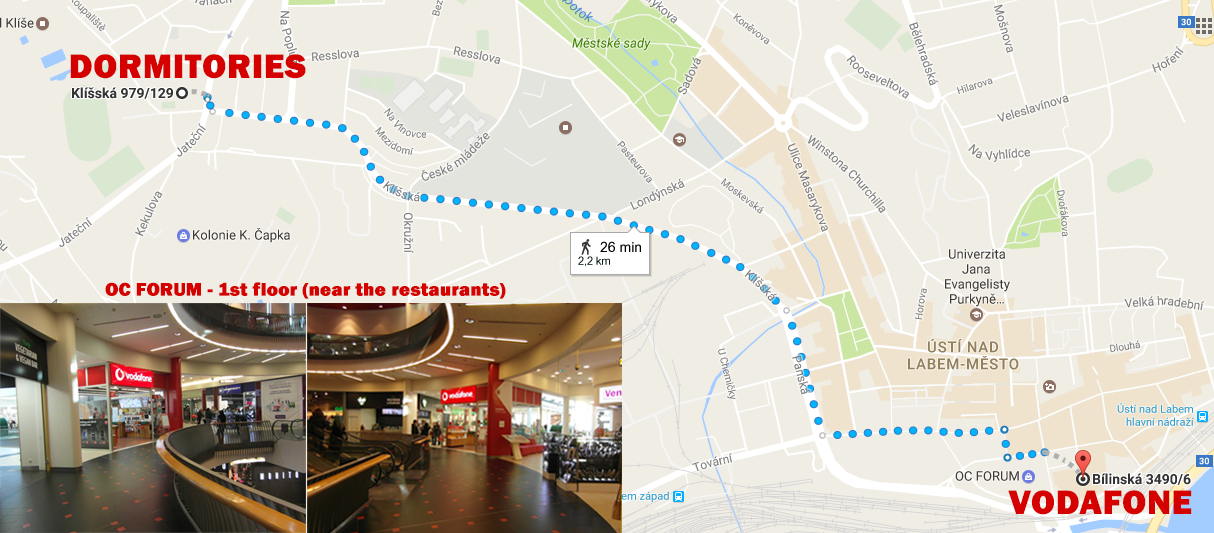 Contact us and get your SIMcard!