Jan Evangelista Purkyně University in Ústí nad Labem (UJEP) is a public university in the Czech Republic. The institution was established on 28 September 1991. It bears the name of famous Czech scientist Jan Evangelista Purkyně who was born in nearby Libochovice. More than 10,000 students are studying at the University at 8 faculties. 
It offers a wide variety of study programs and specializations (55 programs and 173 specializations) focusing on the most varied areas of human activities. Our university is a scientific, pedagogic, cultural and educational center of the Ústí nad Labem region.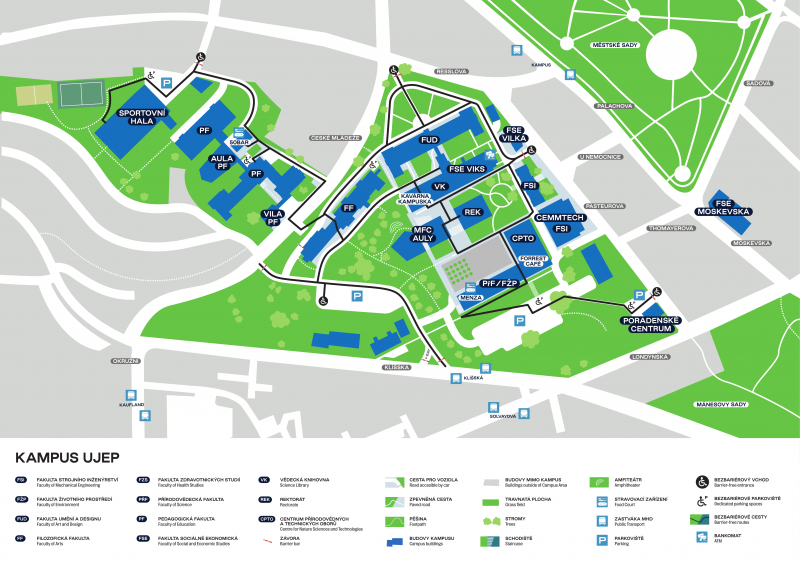 Faculties
You can choose from eight faculties at Jan Evangelista Purkyně University in Ústí nad Labem of your studies: 
Faculty of Art and Design 
Faculty of Education 
Faculty of Environment 
Faculty of Health Studies 
Faculty of Arts 
Faculty of Mechanical Engineering 
Faculty of Science 
Faculty of Social and Economic Studies 
Semester
Every academic year consists of two parts - they take 13 (or 14) weeks. The first one begins at the end of September (winter semester) and the second one at the beginning of February (summer semester). Exam period follows. 
STAG
STAG is an electronic study system which provides students to control and manage their studies. They can find there their timetable, register themselves to exams and find results of their exams. They can log to STAG system by their name and password (given by the faculty coordinator). 
The Scale of Grades
Započteno (Z) = indicates that the student has been awarded the required number of credit points for the studied subject. 
Examination Results: 
Výborně (1) = Excellent
Velmi dobře (2) = Very good 
Dobře (3) = Good 
Nevyhověl/a (4) = Fail 
Courses
Every faculty offers students a wide range of courses that they can study during a semester. For more information please contact your faculty coordinator. Students can also study Czech Language Course before the terms or Erasmus Czech Language Courses for incoming students during the terms. Other Czech Language courses are provided by the Centre for Lifelong Education of the Faculty of Education.